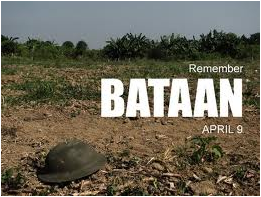 Remember Bataan April 9 in text
Cal State East Bay's Theatre and Dance Department, the Philippine American Student Alliance (PASA) and Artis Mundi of Berkeley present a Commemoration of the 70th Anniversary of the Fall of Bataan on Tuesday, April 10 from 4PM to 6PM at the CSUEB University Theatre. Admission is free and open to the public.
The fall of the Bataan peninsula on April 9, 1942 marked the largest single surrender in American military history. Some 63,000 Filipino and 12,000 American soldiers, mostly sick and emaciated, were forced to march under searing heat with barely any provisions for food, water or medicine in order to reach their prison camps some 60 miles away. Approximately 15,000 soldiers died along the way in what became infamously known as the Bataan Death March.
The event will be introduced by Ann Fajilan, a faculty member in the theatre and dance department, and Artis Mundi's founder, Cecilia Gaerlan, author of the World War II novel, In Her Mother's Image. Participants from the Philippine Scouts Heritage Society, Battling Bastards of Bataan, Bay Area Civilian Ex-Prisoners of War and the U.S. Armed Forces of the Far East will also speak. The members of the Philippine American Student Alliance will do a presentation of Hollywood's depiction of Filipino soldiers during WW II followed by a preview of the Bataan documentary, Forgotten Soldiers written by Chris Schaefer, produced and directed by Donald Plata and narrated by Lou Diamond Phillips. There will also be taped interviews of Bataan Death March survivors that were conducted by the students. The culmination of the program will be the appearance of Bataan Death March/World War II survivors.
Read event press release.
KL