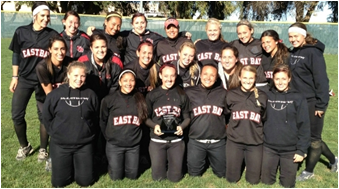 softball team
Cal State East Bay Pioneers claimed second place in the Silver Bracket to finish sixth overall in the 24-team Mizuno Tournament of Champions - a best ever finish for the University.
The Pioneers relied on outstanding pitching performances from Talia Ferrari and Lauren Zweigle and timely hitting to come from behind in game one and force the ninth-ranked Toros to overcome a one-run deficit in extra innings in game two. The split gave the Pioneers a 5-2 record for the weekend, including four wins during pool play and their fourth Sunday victory in their three trips to the tournament.Ferrari went 3-0 with a 1.27 earned run average and two complete games and also hit .333 with four runs and three RBI to collectt All-Tournament Team honors.
Cal State East Bay will jump back into CCAA action on April 6 when it hosts Cal State San Bernardino for a four-game series. The Pioneers and Coyotes are set to get underway with the first of two doubleheaders on April 6 at 1 p.m. at Pioneer Softball Field.
Read more on the CSUEB Athletics Web site.
KH