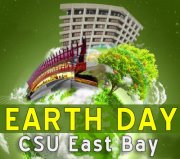 Celebrate Earth Day logo
Join ASI Recreation and Student Health and Counseling Services Health in celebrating "Every Day is Earth Day" on Tuesday, April 24h from 9:00am to 4:00pm at the Recreation and Wellness Center (RAW).
Events include:
A.L.L. (Air, Land, Lungs) Clear Clean-up 9am-2pm @ RAW Plaza
RAW Green Tours 9am-3pm @ RAW Patio
Pledge Tree 9am-4pm @ RAW Lobby
Recycle and Compost Toss 12-2pm @ RAW Plaza
Tap vs. Bottle Taste Test 2-4pm @ RAW Plaza
Make Earth Day [at Cal State East Bay] every day! Be the change. Email ideas for future sustainability education events to ASIrecEvents@csueastbay.edu.
KL