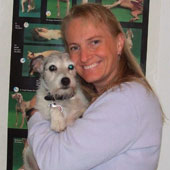 CSUEB alumna Dr. Jenny Taylor, DVM and Molly, her Jack Russell. (By: creaturecomfort.com)
For the past three years, Bay Woof readers have recognized Cal State East Bay alumna Dr. Jenny Taylor, DVM, and her clinic, Creature Comfort Holistic Veterinary Center, in Oakland with "Beast of the Bay" awards for "Best Veterinarian", "Best Alternative Medicine Provider", and "Best Overall Veterinary Clinic." Taylor earned her biology degree from CSUEB. 
Bay Woof is a monthly newspaper for dogs and their people living in the San Francisco Bay Area.  Readers vote annually in the "Beast of the Bay" contest as a way to recognize their favorite dog-centric services and locations in Northern California.
 "I attended other universities before starting at Cal State [East Bay]," said Taylor. "My professors were the best because they were interested in teaching students rather than doing their own individual research projects. I had a great experience [at CSUEB]."
In addition to traditional western veterinary care, Taylor offers holistic modalities such as acupuncture, homeopathy, chiropractic care, and herbal therapies. She also lectures regularly at local animal shelters and kennel clubs and has presented seminars to students in veterinary acupuncture and homeopathy at UCDavis and other institutions. She is featured on the Dogs for Dummies DVD, hosting a series on basic canine care and information.
Congrats, Dr. Taylor!
TG