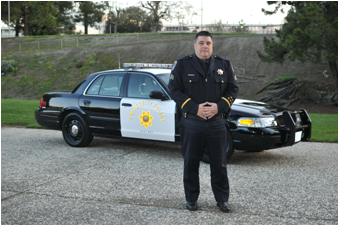 Sergeant Kevin Gonzales
Sergeant Kevin Gonzales from the Cal State East Bay University Police department will conduct "Active Shooter Preparedness" workshops on April 24 (Concord campus) and May 3 (Hayward campus). The purpose of this workshop is to inform and enhance personal safety while on CSUEB campuses.
Workshop participants will learn how to respond in a crisis situation involving a shooter and understand how to recognize early warning signs of an escalating situation with co-workers or students.
Workshops planned:
Concord Campus: Tuesday, April 24, 2012 at 12-1pm in Oak Room
Hayward Campus: Thursday, May 3, 2012 at 12-1pm in University Union Multipurpose Room
The event is free and is open to all members of the CSUEB campus community. For planning of materials and space, please confirm your participation by emailing cpab@csueastbay.edu.
If you have questions or request more information, contact Laty Johnson, at cpab@csueastbay.edu or call (510) 885-3032.
KL