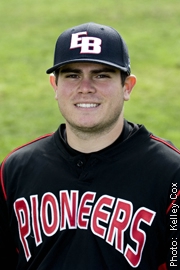 Kyle Zozaya (By: Michael Chen)
Cal State East Bay junior Kyle Zozaya's two homeruns led to a late rally that stunned Cal State San Bernardino. Zozaya hit two home runs, including a go-ahead two-run homer in the eighth inning to lead the Pioneer baseball team to a come-from-behind 12-11 CCAA victory over Cal State San Bernardino on April 16 at Fiscalini Field.
"Kyle had a big day at the plate," Pioneer coach Bob Ralston said. "His homer in the eighth won it for us." The Pioneers averted a four-game sweep and improve to 9-19 in CCAA play and 15-23 for the season.
Way to go, Kyle!
Read more game details on the Cal State East Bay Athletics Web site.
KL