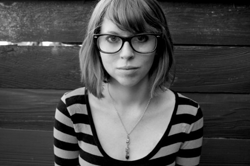 Laura Lam
Laura Richardson Lam, '09 English literature/creative writing, has signed with Peters Fraser & Dunlop, a large London-based literary agency, for her first book, "Pantomime." 
Lam has also just signed a two-book deal with Strange Chemistry, the Young Adult fiction division of Angry Robot that publishes in the United Kingdom, Canada, and the United States.   
Due out a year from now, "Pantomime" is a young adult sci fi/fantasy novel. 
Lam's mother, CSUEB English lecturer Sally Cooperman said, "I have read both the first and second drafts of her novel and found myself unable to stop reading it.  It is an exciting story with important themes, an incredibly imaginative world, rich characters, and beautiful language."
Lam graduated from Hayward High School in 2006, and now lives in Aberdeen, Scotland with her husband.
DD