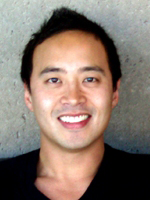 Nick Vasallo
Asian-American composer Nicholas Vasallo, '07 music and current music lecturer, has released his first CD. CSUEB music students will perform two of the pieces in concert this spring. 
Described as "heavy metal to heavy classical," Vasallo's "Moments Emerge" fuses Western classical music, Asian classical music, and heavy metal.
The CSUEB Chamber Winds will perform "In Another Time" in a concert at 7:30 p.m. Tuesday, May 22 in the University Theatre, and the East Bay String Orchestra will perform "Shred," in a concert at 7:30 p.m. Thursday, June 7 in the Recital Hall, Music Building 1055. Admission will be free to those with a CSUEB I.D., and $5-7 for others. The campus is at 25800 Carlos Bee Blvd., Hayward, 94542.
"This CD is culturally significant because there are very few Asian-American composers represented in popular culture, let alone art music today," said Vasallo.
"I consciously mix styles which I feel are underrepresented in academic music today: notably Taiko and Metal music. Both are empowering in a sense, and struggle to find credibility as a "high art" form," he said.
Samples from the CD can be heard at:
VASALLO - Antares Rising (2010)
The CD is available at:
DD