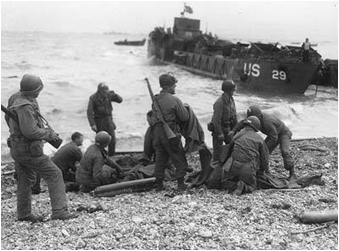 Army Signal Corps Collection in the U.S. National Archives
Michael Schutz, Cal State East Bay sociology lecturer, recently visited the 1944 invasion beaches and will lead a discussion on the series of coordinated but improbable scenarios that made up history's largest amphibious assault, the D-Day invasion of Normandy.
When Hitler's armies crushed France in 1940, Germany controlled most of Western Europe.  Only England stood in opposition, and a cross-channel invasion from that embattled island seemed unlikely. But four years later, Hitler's reversal of fortunes in the East and the entrance of the United States into the conflict set the stage for just such an enterprise. Courage, daring, and not a little luck made Operation Overlord a success and opened, at last, a true western front against the Nazis. 
This lecture will be held by the Osher Lifelong Learning Institute (OLLI) program on Saturday, April 21 at 1:30pm at Baywood Court in Castro Valley. Visit the OLLI Web site for more information or to register for the program. 
KL