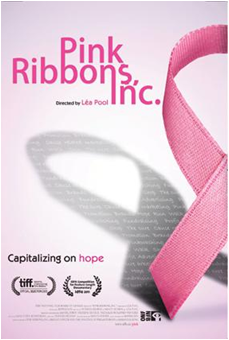 Pink Ribbons Inc. cover (By: imdb.com)
Samantha King, author of Pink Ribbons Inc.: Breast Cancer and the Politics of Philanthropy will talk April 25 at California State University, East Bay, about how marketing campaigns to cure cancer have transformed a once-stigmatized disease into an industry centered around surviving a health crisis. The program will begin with a screening of the 2011 documentary film Pink Ribbons Inc., which is based on her book.
The evening's presentation, sponsored by the university's new Center for Sport and Social Justice and the Department of Kinesiology, and will begin at 7 p.m. in the University Theatre on Cal State East Bay's Hayward Campus, 25800 Carlos Bee Blvd. Admission is free and open to the public.
Further information about the documentary and King's question and answer presentation as well as the Center for Sport and Social Justice is available by contacting Becky Beal, associate professor of kinesiology, at becky.beal@csueastbay.edu.
KL