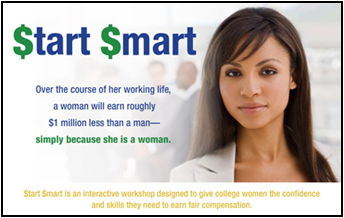 Start Smart flyer
Over the course of her working life, a woman will earn roughly $1 million less than a man. Cal State East Bay Academic Advising and Career Education aims to close this gap by hosting a workshop geared towards giving college women the confidence and skills they need to earn fair compensation  This free event will held in the old University Union in UU-311 from 3:00pm-6:00pm on April 18.
$tart $mart teaches a young woman how to determine what employers are paying for the job she wants when she graduates and how to negotiate to be paid what she is worth doing that job. Typically, workshops include forty or fewer participants so that every student has a chance to ask questions and make comments.
Every participant in these workshops learns the key aspects in salary negotiation:
The personal consequences of the gender wage gap to a college graduate
Resources for benchmarking the salary and benefits for a particular job
Negotiation tactics and strategies 
Develop a "bare bones" budget to pay rent, buy groceries, repay student loans, and other basic expenses
While the event is free, registration is required because participation is limited to 40 people. Please log into CBAY and click "workshops" for the registration form.
For more information, contact Susana Moraga at susana.moraga@csueastbay.edu
KL