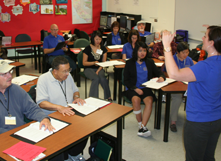 Karen Fremont directs a group rehearsal. (By: Nori Kamada Simpson)
The Aphasia Tones©, a Cal State East Bay chorus comprising persons learning to live fully with aphasia, will perform Wednesday, June 6 to raise awareness about aphasia and raise funds to support the campus Aphasia Treatment Program.
"Aphasia Awareness: A Celebration!" will begin with a reception from 2:30-4 p.m. in the Music Building courtyard, followed by the concert from 4-5 p.m. in MB 1055. Both locations are on the university's Hayward Campus, 25800 Carlos Bee Blvd. The suggested donation is $5 per person.
Aphasia is a communication disorder affecting talking, understanding, reading, and writing. Learn more in the CSUEB News article.
DD