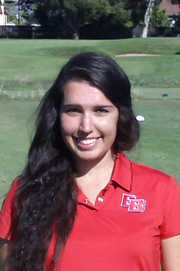 Freshman Linda Brown
The Cal State East Bay women's golf team finished off the regular season with a seventh-place showing at the Cal State Monterey Bay Otter Invitational. The Pioneers posted a three-round total of 975 (+111) to finish seven strokes back of sixth-place Sonoma State and 17 strokes out of the top three.
Linda Brown led East Bay, tying for ninth in the field of 43 individuals after posting a three-round total of 232 (+16). Brown posted the lowest single-round score for the Pioneers, notching a 75 (+3) in the first round. Deanna Tyndall took four strokes off her first-round score to tie for 22nd. Katie Devine tied for 27th with a three-round total of 250 (+34). Andrea Castellanos carded a 253 to finish 32nd, while Arielle Swan-Smith took eight strokes off her first-round total on Tuesday to tie for 33rd and finish just one stroke behind Castellanos to round out the Pioneer contingent. 
Way to finish, Pioneers!
For more women's golf news, visit the CSUEB Athletics Web site.
KL