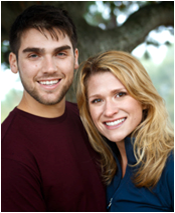 Mike and Brittany Shaddle (By: fitwithbrit.com)
Cal State East Bay alumna Brittany Shaddle '07 first made the connection between exercising and healing as a 17-year old when she turned to soccer as a rehabilitation tool to help her recover from a multiple sclerosis relapse.   She was so inspired that she became a certified personal trainer to pay her way through Cal State East Bay. 
After graduating with her bachelor's degree in kinesiology, climbing the corporate ladder at Bally's Total Fitness and marrying her high school sweetheart, Shaddle turned into an entrepreneur when she opened her own personal fitness business, "Fit with Brit" (note the single "t").
"It was a crazy time," said Shaddle. "It was soon after I opened my company in 2008 that Mike was deployed to Iraq.  At first it was stressful but I decided to use the time to focus on both my clients and my own health as a way to deal with his absence."
Her husband - Iraq veteran and current CSUEB business student - Mike Shaddle used what he learned from his marketing and management classes to help his wife evolve "Fit with Brit" into a virtual training model in 2010.  "We wanted to make it affordable and convenient for everyone – especially those people who don't like to exercise," explained Shaddle.  Mike learned web coding while Shaddle perfected exercise routines in 20-minute segments that required very little space or equipment.
"Multiple Sclerosis has not been a disability for me," said Shaddle. "It has changed my life, but for the better. This disease shaped my career and has given me an outlet for my empathy towards others with similar health challenges."  Considering the owners, it's no surprise that "Fit with Brit" extends discounts to both students and military members.
Congrats on your success!
For more information, visit the Fit with Brit Web site or Facebook page.
KL