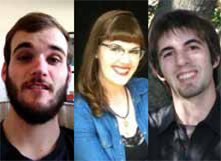 From left to right, T.J. Lyons, Samantha Kennedy, and Christopher Morgan
T.J. (Thomas) Lyons took first in the 2012 Donald Markos Prize for Poetry for "Minutes." Samantha Kennedy's "Untitled" poem took second, and Christopher Morgan's "Before the Crash, Yet Already Wading Through Fire" took third. Endre Branstad's "Do You Want to See the Pigs?" received honorable mention.
The first three winners received $100, $75, and $50, respectively, and will be published in the Cal State East Bay English Department's "Occam's Razor." Berkeley poet Nellie Hill judged the entries.
Susan Gubernat, professor of English and contest organizer, said, "It's exciting for us and for our students to have their work recognized by a poet from outside the university. The finalists' work was judged anonymously and, quite coincidentally, our poetry winners have won prizes in fiction as well. To me, that suggests good writing is good writing, regardless of genre. These students' versatility is matched by their passionate attention to craft."
Speaking of the first place poem, Hill said, "I liked the immediacy of the vivid, narrative flow and the way it allows the reader to feel what it's like to go through the numbing experience that takes place in the poem. This happens in part, I think, because of the physicality of the language.  It's a grounded poem (the word ground or grounded appears in each stanza), and it shows admirable attention to craft and form."
Referring to the second place poem, Hill said, "The sensual, musical language of this poem and also the imagery caught my attention. Then I was drawn in by the almost-surreal psychological drama playing within the poem's sensuality."
Of the third winner, Hill said, "The success of this poem rests in the clear language and simple two-line stanzas through which the poet is able to convey the interior self's attempt to come to terms with an external force."
The prize is named for Don Markos, who taught English at CSUEB from 1966 to 1999, and who launched the first "Occam's Razor" in 1989 to showcase poetry and fiction written in creative writing classes and by students throughout the University, as well as work from art students.
DD