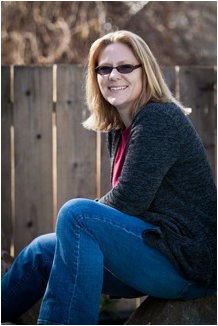 Mary Kropf, author of Deadly Secret which is first in The Aurator series.
It took sixteen years before Cal State East Bay alumna Mary Kropf fulfilled her childhood dream of publishing a book.Deadly Secrets (2012 Xlibris Corporation) was recently released as the first book of the Aurator trilogy. Kropf, RN, BSN, CEP  has been a registered nurse working in addiction medicine, emergency medicine and psychiatry.  She is also working on her masters in nursing with an emphasis in education.
"I have always wanted to write a novel but always felt that I never had an original idea," said Kropf.   "[The plot]… literally "popped" into my head as I was driving around town.  I had no idea in that moment that it would lead to a completed story.  And...two more."
Barnes & Noble summarizes Deadly Secrets, "Megan is a nurse, wife and a mother who learns that her lifelong heightened sensory perception puts her among an ancient elite group known as Auratorsâ those who can read people's auras. She meets Max, who mentors her, as she is swiftly thrust into membership within a secret historical medical society originating back to ancient Greece, and her world quickly wobbles between reality and the supernatural driving her to the brink of insanity. In discovering her powerful bloodline, she also learns the prophecy marking her to protect the world from the Caduceus, an equally ancient society intent on world destruction.
Visit Kropf's Web site for more information. THE AURATOR
KL