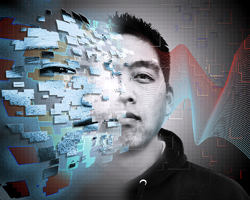 Digital Facial Destruction
Everyone is invited to the CSUEB English Department's Annual Publication Party for the 29th annual Occam's Razor, a collection of current student poetry and fiction. The party will get underway at 7 p.m. Monday, June 11 in the Biella Room of the University Library, Hayward Campus. 
There will be readings by poets and fiction writers that appear in the issue, an open mic, and refreshments. Admission will be free, and free copies of the new Occam's Razor will be available.
"All students are honored — we become one as a community of writers," said Stephen Gutierrez, English professor, who is organizing the gathering with colleague Susan Gubernat.
English Professor Emeritus Don Markos established the magazine in 1989 with the aid of lottery money. He continues to do the typesetting and layout that ready the book-like magazine for publication.
Markos will be among the honored, party guests, and the winners of a poetry contest in his name will be among the readers. Information on the party and on "Occam's Razor" are available at steve.gutierrez@csueastbay.edu or susan.gubernat@csueastbay.edu
DD