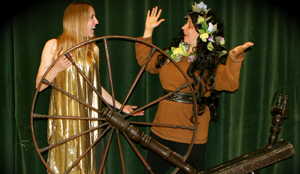 Jessica Betando on the right and Linda Dorsey on the right during a show
"Riddle Me," a new chamber opera based on the fairy tale "Rumpelstiltskin" will be presented June 4 by the CSUEB Music Department. The free program will be at 8 p.m. in the University Theatre, 25800 Carlos Bee Blvd., Hayward 94542.
Created by Cal State East Bay lecturer Allen Shearer, the program uses a libretto by Claudia Stevens, plus scenes and arias from other operas. 
Four solo singers, graduate student Linda Dorsey, seniors Jessica Betando and Yejing "Giovanni" Zhang, and junior Lara Patton, will be joined by the CSUEB Opera Workshop and a chamber orchestra. Shearer and lecturer Pamela Hicks will direct, and Buddy James, associate professor of music, will conduct.
This version of the well-known story of a poor miller who boasts his daughter can spin straw into gold, is re-imagined with a modern-day consciousness incorporating greed, oppression, discrimination, and false values. 
The father is recast as a competitive mother, the bullying king becomes the real villain of the narrative, and Rumpelstiltskin, as "Riddle," is a mysterious creature from ancient times come to help nudge humanity toward a much-needed attitude adjustment.
The 45-minute "Riddle Me" was written in 2010 for the University of California, Santa Cruz Opera Theatre, where it was presented to children and their parents. It is sung in English.
"It is heartening to see today's children responding to a fairy-tale opera in a live performance," said Shearer. "An early exposure to opera is certainly a good thing, and many companies throughout the U.S. make this part of their mission."
DD