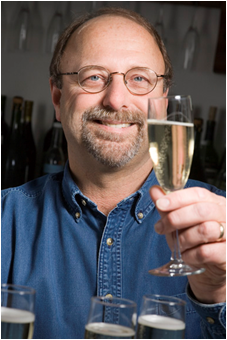 Rick Casqueiro '73 (By: domaine-ste-michelle.com)
In a 2008 national taste test, the $12 Domaine Ste. Michelle brut outscored a $150 bottle of Dom Perignon. This stunning defeat pushed Domaine Ste. Michelle winemaker and Cal State East Bay chemistry grad Rick Casqueiro '73 into the global spotlight.
Casqueiro said the art of winemaking was passed on from one generation of Casqueiros to the next. Every fall, his grandfather would travel to Santa Clara or Livermore Valley to purchase grapes, and then have a big crush party. The interaction of people, food, and wine left a lasting impression on him.
After earning his bachelor's degree in chemistry, he joined Villa Armando Winery as their analytical chemist of enology. Positions at Weibel Champagne Vineyards and
Coventry Vale Winery followed before Casqueiro joined Domaine Ste. Michelle in 1996 as head winemaker. On the Domaine Ste. Michelle Web site, he said that, "constantly strives to produce outstanding wines exhibiting consistency from vintage to vintage in hopes of bringing great joy to his consumers."
Congrats on your success, Rick!
KL