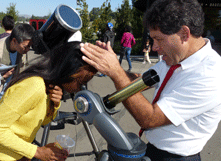 Science professor Gary Weston adjusts telescope for interested student. (By: Barry Zepel)
Cal State East Bay science faculty members Gary Weston and Louis Villaneuva led an observation of the Venus Transit June 5 from 3 to 6 p.m. and also observed the Sun and its current solar activity.
The observation, which took place on the CSUEB Hayward Campus at the Science East Lawn area, east of the Science buildings, used an 8" telescope featuring a Mylar filter to observe sunspots and the Venus transit. A small telescope using an H-alpha filter allowed viewers to see any solar prominences or flares and sunspots and dark spot made by Venus during transit
Although only a small black dot was visible on the Sun's disk using a telescope with a solar filter, this transit of Venus is very rare, according to Weston.  The last transit of Venus occurred in 2004, and the next Venus transit will not occur for another 105 years, the professor noted.
"This transit confirms a deep understanding of celestial mechanics in the solar system and provides a reason for us to observe the Sun," said Weston. "It also allows viewing of the current solar activity through a telescope.
GW/BZ