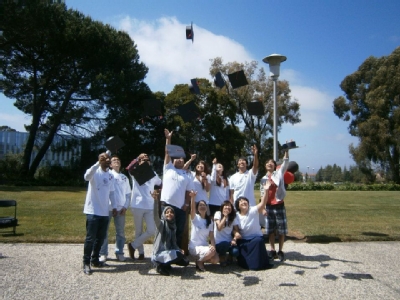 A group of people tossing their caps in the air.
Since 2010, the American Language Program (ALP) at California State University, East Bay has given its alumni a graduation of its own, dubbed "GradFest." In calendar year 2012, 145 former ALP students will graduate with CSUEB bachelor's degrees or master's degrees. The event gives a chance for matriculated international students on the verge of graduation to reunite with their former classmates, to congratulate each other, and to recognize how far they have come since those first days on the CSUEB campus.
ALP is an intensive English language program which allows the students to study and become familiar with English before matriculating as full-time students of the University.
GradFest 2012, which took place on May 17th, was a poignant if informal affair. The audience was spotted in the front with the construction paper mortarboards of the graduates and in the back with smiling friends, teachers, and well-wishers. Students addressed their fellow alumni expressing sentiments ranging from thankful to hopeful, but always grateful for their education and experiences.
The general sense of camaraderie was obvious as evidenced by the hugging and laughter emanating from the crowd. "In a sense, they grew up together," said Brian Cook, the Associate Vice President of the Division of Continuing and International Education, "They've taken classes with each other, and many of them paid bills for the first time together."
The optimism of the graduates could be summarized by one of the speakers, Anna Lee, who said, "I might face huge problems [in the future], but I believe it's going to be okay if I do my best, if I'm not aftraid of trying, and if I enjoy everything in every place in every moment as I did when I was in ALP at Cal State East Bay."
The ALP alumni will graduate with the rest of the University at the ceremonies which take place Friday, June 15th to Sunday, June 17th.
LP