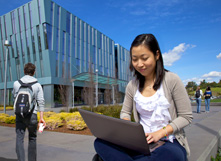 Female Asian student at laptop outside SSA building on Hayward campus
For thousands of students graduating this weekend, donning their caps and gowns wouldn't be possible without the generosity of alumni and friends of the University, and the funding they provide for scholarships and programs that keep the dream of a college education in reach. 
More than 60 percent of CSUEB students depend on some kind of financial aid. ThanhPhuong (Mindy) Le, who graduates Friday with a B.S. in biology, is one of them. She's part of the first generation in her family to go to college in the U.S., and the first of her siblings to earn a bachelor's degree. Entering CSUEB as a transfer student, she had to work hard to manage her demanding schoolwork and her family responsibilities, making the 60-mile round trip to Hayward every day from San Pablo to attend classes — and every year as tuition fees went up, so did gas prices.
Even with graduation in sight, it wasn't easy to find the money to pay the bills and support her family. But thanks to programs like the "S.O.S." fund and the College of Science fund, Mindy was able to finish her coursework (with an honors-level GPA) and graduate, ready to focus on her next goal — applying to medical school.
We shared Mindy's story with donors and friends this spring to encourage them to support the University's Annual Fund, which provides funding for colleges, special programs, and scholarships that ensure students like Mindy have the support they need — academically, financially, and personally — to stay enrolled and graduate.
Raising money to support student success is one of the University's top priorities. Every year, these gifts provide:
scholarships for students who need to balance school, work, and family responsibilities while maintaining their academic success;
research- and project-based learning opportunities with faculty that give students invaluable experience conducting and presenting research;
equipment and materials needed to provide state-of-the-art teaching.
Mindy may be graduating, but every year more students with stories just like hers enter CSUEB ready to work to achieve their dreams. And with state support declining and tuition fees rising, they need help to get there.
Scholarships are an integral part of the University's mission and our commitment to the East Bay region. We thank all of the generous donors who made it possible for the Class of 2012 to reach their goals!
SS