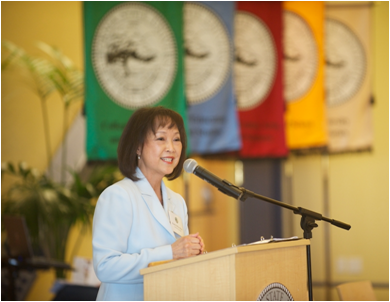 Emily Brizendine
In recognition of her service to the community, Mayor Ron Leone of the city of Concord issued a proclamation making June 19 "Dr. Emily Lowe Brizendine Day."
Brizendine retired June 19 following more than 20 years of service to Cal State East Bay, where she most recently served as director of CSUEB's Gateways Partnership. She previously was executive director of the Concord Campus.
In 2008, Brizendine was appointed interim executive director of the Concord Campus, and assumed the role permanently in 2009. Later that year, the Gateways Cradle to Career Education and Workforce Partnership was launched with support from the Living Cities consortium in collaboration with the Coalition of Urban Serving Universities. The research-based partnership works to remedy deficiencies in the East Bay's school-to-career pipeline in concert with approximately 30 partners representing business, education, civic, nonprofit and philanthropic organizations.
Brizendine oversaw development of the initial Gateways Partnership, transitioning to full-time leadership of the program in November 2011.
Brizendine holds bachelor's, master's, and doctoral degrees in education from the University of California, Los Angeles; she began her career in the Long Beach Unified School District as a teacher and administrator.
MB