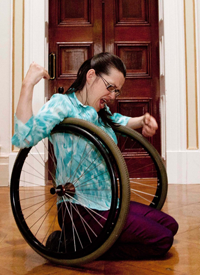 Woman on floor with wheelchair, in front of closed door.
Eric Kupers, assistant professor of theatre and dance with a speciality in integrated performance, has choreographed and directed "Pass Path Groove" for an dance company in Cork, Ireland. Keith Penney '10 (physics) has assisted Kupers.
The piece, involving Cork community members with and without disabilities, will be performed at the COPE Irish Performing Arts Festival/Eurosong Festival June 28. It will be live streamed on the Cork City Web Site. 
The show starts at 7:30 p.m. Ireland time (which is 11:30 a.m. Pacific Coast time). Look for this piece in the second act, between approximately 12:30 and 1:30 p.m. our time.
"I'm proud of the piece and inspired by the way the community and professional groups all came together for the piece," said Kupers.
The program will also include a lecture on professionalism in integrated dance, and a dance workshop.
DD