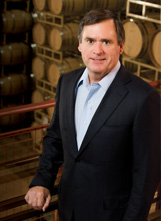 Dennis Cakebread (Courtesy Cakebread Cellars)
Dennis Cakebread's father Jack started Cakebread Cellars 38 years ago as a hobby, buying a ranch in Rutherford from friends. By 1973, the Napa Valley vineyard had produced its first vintage, 157 cases of chardonnay.
Over the years, Dennis Cakebread, who concluded three years of study at CSUEB in 1973, had always helped out in the Napa-based wine cellar, with the grape picking crews in the fields, and with winery sales.
Cakebread says his classes at CSUEB, particularly a statistics class, help him understand the business's manufacturing process even today. "Going to grad school really helped me focus," he says. "I probably use what I learned there more than anything else," in his approach to business. 
Read the entire story in the fall 2011 issue of Cal State East Bay magazine (page 28)  
KL