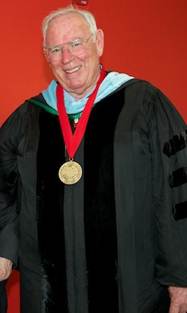 Don Sawyer (By: Stephanie Secrest)
Don Sawyer, who has filled just about every role that one person can at California State University, East Bay — student, athlete, alumnus, coach, professor, department chair, academic senate chair, and president's chief of staff — during more than 44 years, announced earlier this year that he would be retiring as of June 30.
In a move that caught Sawyer completely off guard, CSUEB President Leroy M. Morishita presented the lifelong member of the university community with the "President's Medal for Service" during commencement ceremonies for the College of Business and Economics Saturday afternoon, June 16.
"Students have always been the No. 1 priority for Don, whether as a coach, professor or administrator," Morishita said. "He has dedicated himself to this institution, in many capacities, for more than 40 years.
"I think that dedication first began when Don was a student athlete. I salute him for his unwavering commitment and dedication to the mission and ideals of California State University, East Bay, which are to provide the opportunity for access to a quality college education. His invaluable and selfless contributions to students, colleagues, and the region are immeasurable and woven into the historical fabric of the University."
Sawyer, the president's chief of staff since first appointed to that position in 2006, expressed complete surprise when Morishita made the announcement of the award.
"I was stunned," Sawyer said. "I had no idea that it was coming."
The award represents a lifetime of dedication to higher education and the university, which he served as a professor of kinesiology and physical education.
Sawyer was first employed as an assistant football coach and lecturer in CSUEB's Department of Kinesiology and Physical Education in 1971. He continued to coach football until the university dropped the sport after the 1993 season.  Sawyer also was a track and field coach, and ranks coaching his younger brother Mark to an NCAA Division II championship in the hammer throw as one of the many thrills of his career.
He first came to the university in 1966 – when it was known as California State College at Hayward –  as a student-athlete, playing as an offensive and defensive lineman for the Pioneer football team during his junior and senior years (1966-67 and '67-68) after transferring from Chabot College. Sawyer earned his bachelor's degree in physical education in 1968, as well as a state teaching credential in 1969, both from Cal State East Bay. He got his master's degree in kinesiology and physical education from San Francisco State in 1970, and his doctorate in education from the University of San Francisco in 1993.
Sawyer says he is happy that he has always been able to do what he likes most: help and communicate directly with students in a small college atmosphere.
"Over the years, I have seen our students make such great strides in their own way," he said.  "I continue to embrace the system here that has allowed me to do so much.  I don't know if I could have been happy anywhere else."
Until Sawyer became chief of staff, his kinesiology teaching load included sport sociology, motor learning and control, and sport psychology.
With his affinity to sport and physical education, it's not surprising that Sawyer's wife of 40 years, Linda, also has a coaching and teaching background.  She retired a few years back as athletic director and chair of the Physical Education Department at Las Lomas High School in Walnut Creek, where she also coached swimming and track.
Not surprisingly, the Sawyers met and fell in love as college students. Guess where.
BZ