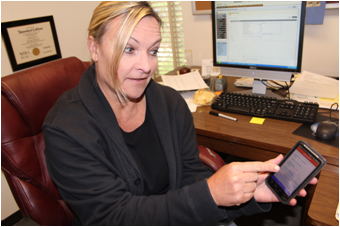 Assistant Political Science Professor Elizabeth Bergman demonstrates her new voter app created in partnership with Atwoodz, Inc. (By: Chase Thomas, The Pioneer)
Cal State East Bay Assistant Political Science Professor Elizabeth Bergman teamed with Atwoodz Inc. to pilot a free smart phone app - VoterGuideNow™ - of the County's Voter Information Pamphlet for the June 5 primaries in Marin, Shasta and Santa Cruz counties.
Available for both Android or iPhone users, the app allows voters to research candidates, read endorsements, get information on state propositions and local measures, and select a candidate or measure to add to "My Choices" for later reference.
The app is aimed at saving money by reducing postage and paper costs as people opt out of receiving printed Sample Ballot and Voter Information Pamphlet. There are about 17 million registered voters in California, most of who get printed information, but if they convert to electronic voter guides, this could save about 500 million sheets of paper—equating to 60,000 trees.
"California has always been at the forefront of technological change and advancement, setting the pace for other states to follow," wrote Atwoodz in their press release.  "Once user download data becomes available we believe other states will find VoterGuideNow™ a smart and compelling solution."
For more information or to download the apps, visit the official election Web sites for each county:
KL