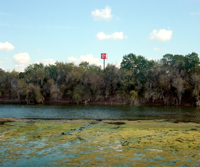 landscape
"Looking across the U.S.-Mexico border, Texas, Tamaulipas," a photo by Associate Professor of Art Scott Hopkins, has been selected to be one of 18 pieces in the exhibition, "Transient States," at SF Camerawork, 1011 Market Street, Second Floor, San Francisco.
This is the third time Hopkins has had a photo selected for the gallery. The first was in the 1991 juried exhibit, "Best of Bay Area Student Photography." This time, Hopkins' work was selected from among submissions by 50-100 Camerawork members. 
Lisa Sutcliffe, who is a photography curator at San Francisco Museum of Modern Art, organized the show.
The show will open with a reception from 5-8 p.m. July 13. The gallery is open noon to 6 p.m. Tuesday through Saturday, and until 7 p.m. Fridays.
More on Camerawork is at: SF Camera Work
DD