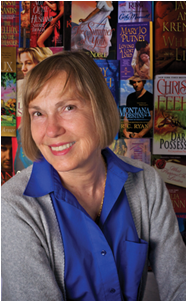 Kristin Ramsdell
E-readers like the Kindle and Nook are big right now for readers of every genre, but they've specifically helped the romance/erotica category achieve new stature in the mainstream, especially with women. Two out of five new romance book purchases in the fourth quarter of 2011 were electronic.
Oakland Tribune reporter Angela Hill interviewed Kristin Ramsdell, Cal State East Bay professor emerita and former Romance Writers of America Librarian of the Year, for her article, "E-books allow clandestine rendezvous with literary guilty pleasures." Read article.
Ramsdell, who pens a bimonthly romance review column for the national Library Journal, said that romance has taken off digitally partly because e-books make it easy for publishers to re-release out-of-print books, giving readers a chance to find old favorites, and also squeezing more money out of them.
"Romance -- except for the big names like Nora Roberts -- goes out of print very quickly with quick-turn-around series," she said. "So people gobble up some of the old stuff you can't find anymore."
KL