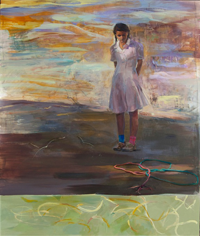 Girl with red and blue socks.
Seventeen paintings by Grace Munakata, professor of art, are being shown through November at the gallery at the St. Supéry Estate Vineyards & Winery in Napa. The exhibition is open from 10 a.m. to 5 p.m. daily. An opening is set for July 14.  
Munakata's paintings and works on paper celebrate color, form and a love of pattern and overlay. The pieces, created over a period of five years, contain perspectives of childhood and growing into an adult, and a continuous folding in of many moments and reflections.
Munakata's work can shuffle time, like a play whose curtains open onto a walk in the woods, a sewing room from the past, then a children's game, or incorporate literature. 
The exhibition is courtesy of the Paul Thiebaud Gallery located in San Francisco. The Gallery exhibits work by a number of American painters and sculptors, with an emphasis on California artists, in various stages of their careers. The gallery further handles key secondary market material by American and European modern masters and by other artists rooted in the Bay Area figurative tradition.  
Three of the pieces are shown on the winery's "gallery" page. The gallery is at 8440 S. St. Helena Highway, Napa, 94558.  
DD