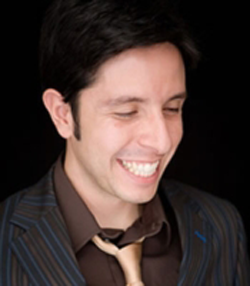 Head shot of a man
Noah Luna, '07 music composition, is featured in the "dream job" section of the current salary.com newsletter: 
Luna is owner and founder of Beauty in Cacophony Press, a San Jose company that published sheet music and does pre-press editing and typesetting for other publishers.
Luna and his team, including his wife, work with young and emerging composers who might not otherwise be picked up by larger publishing companies, handling the business side while they focus on composing.
One of his biggest accomplishments so far is his ongoing work with Mason Bates. To date, Luna has prepared parts and scores for numerous premiers for orchestras all over the world, including London Symphony Orchestra, the YouTube Symphony Orchestra, Chicago Symphony Orchestra, San Francisco Symphony, and others.
Luna gives considerable credit to CSUEB for making him a successful businessman.
"I learned many of the skills with music software from (Associate Professor and Music Chair Rafael Hernandez) in our "Music Technology" class.  Additionally, I learned about not only the craft of composition from him and Dr. (Frank) LaRocca, but also what the real world looks like for composers: what opportunities are available, what you can expect to use these skills for, and what you can do to stay competitive in a changing arts scene and the market that goes with it," said Luna.
DD