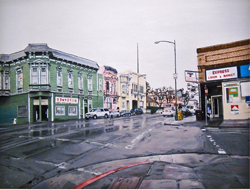 Painting of downtown Oakland street.
Artwork by Alberto Symon, BFA traditional art '12, is on display on the first floor of the Student Services and Administration Building through fall quarter, 2012. Additional exhibits of CSUEB student work will follow during the 2012-13 academic year.
The three paintings (one a diptych of two panels) and one pastel drawing are, "East 12th," an oil on canvas, 36- by 36-inches in size; the diptych, "Foothill 1," an oil on canvas, 36- by 36-inches; "Foothill 2," an oil on canvas 24- by 36-inches; "13th and 14th," an oil on canvas 30- by 40-inches; and, "Untitled," an oil pastel on paper of Lake Merritt, that is 22- by 30-inches in size.
All of Symon's pieces are of his native Oakland, and each place he paints has personal significance.  
"Alberto has an uncanny ability to work realistically from memory, and is also interested in more surreal, dreamlike imagery which borders on the abstract," said Art Professor Grace Munakata.
Following this exhibit, Symon will have a solo exhibit, curated by University Gallery Curator Philip Ringler, at the CSUEB Oakland Professional Center.
Symon received the 2012 Friends of the Arts Award in art for his painting in the Student Juried Show, and his work was selected by an Art Department committee to become part of the permanent University Art Collection that will be paid for through donations.
DD