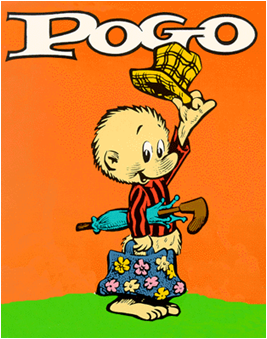 Book cover (By: sos.georgia.gov)
Cal State East Bay Sociology Lecturer Thomas Andrae will be discussing the life and art of Walt Kelly, creator of the Pogo cartoon, on Thursday, July 7, from 7pm-9pm at the San Francisco Cartoon Art Museum.
Andrae is one of four authors of the new book, Walt Kelly: The Life and Art of the Creator of Pogo (Hermes Press, May 2012). "From his days at Disney working on such films as Snow White, Fantasia, and Dumbo to his work for Dell comics culminating with Pogo—and beyond—this full-color coffee-table art book is packed with rare and beautiful examples of original and often rarely or never-before-seen artwork, including Kelly's comic book and strip art, book covers, and animation art. Also presented for the first time in print is a complete interview with Ward Kimball, one of Disney's "Nine Old Men," sharing an inside look at Kelly and the Disney studio, as well as a complete, full-color Pogo Sunday sequence. Informative, scholarly yet approachable articles on Kelly's life and work are also featured."
Recognized as a popular culture historian, Andrae co-wrote Batman and Me with Bob Kane (1989); Carl Barks and the Disney Comic Book (2006); Siegel and Shuster's Funnyman, the First Jewish Superhero (2010); Creators of the Superheroes (2011); and Masters of Comic Art and Men of Steel: Siegel and Shuster and the Birth of the Superhero (both forthcoming). 
KL