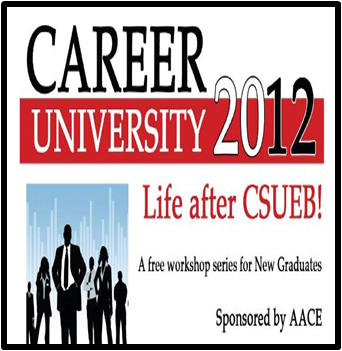 graphics for AACE workshop flyer
Cal State East Bay Academic Advising and Career Education (AACE) will host a free workshop series for recent graduates that focuses on preparing students for careers after college. Workshop dates are as follows:
Perfect your Resume-July 10
Resources "Out There"-July 12
Interviewing Skills-July 24
Salary Negotiation - July 25 (at 3:00pm)
Professional Associations-July 26
Finding Government Jobs-Aug. 7
How to Sell Yourself-Aug. 9
Social Media and Networking-Aug. 21
Putting It All Together-Aug. 23
All workshops - except for Salary Negotiation on July 25 at 3:00pm - will be held 11 a.m. to 12 p.m. in the Student Services and Administration Building, Room 2300.
Although the workshops are targeted to recent graduates, all CSUEB students are welcome. Registration is not required.
KL