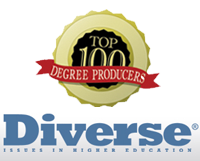 Diverse logo
Following a strong showing in the undergraduate rankings released by Diverse Issues in Higher Education for degrees awarded to students of color, Cal State East Bay has also been recognized for minority students' accomplishments in graduate programs. This year the University is ranked No. 80 in the nation for the total number of master's degrees in all disciplines awarded to students of color.
The list is based on the total number of degrees awarded cumulatively to minority students across all disciplines, with breakdowns by overall percentage, individual racial and ethnic groups, and specific degree areas.
CSUEB is also third in the nation for advanced math and statistics degrees awarded overall to students of color, 14th for degrees in English language and literature, 23rd for engineering-related fields, 25th for health administration, 25th in public administration, 30th in history, 39th in biological sciences, and 48th in communication sciences and disorders.
Among African American graduate students, CSUEB was noted for English programs (No. 28) and public administration (No. 33). For Hispanic/Latino students, we're in the top 20 for math, engineering, and health professions, and in the top 100 for all graduate degrees.
SS