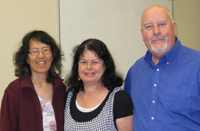 Alumni in performance are, from left, Veronica Fong, Patsy Littier Ledbetter, and Kevin Ledbetter.
Four CSUEB alumni are among those presenting "King David: Neighborhood Church's Summer 2012 Musical Production" July 27 and 28 and Aug. 2 and 4 in Castro Valley.
Kevin Ledbetter, BA music '79, is the musical director; his wife, Patricia Marie Littier Ledbetter, BA drama '79, is in the ensemble and medium of Endor; Veronica Fong, MS counseling, '00, is in the ensemble; Marjorie Elizabeth Johnson Baker, BA mass com, '91, plays an Israelite woman and is in the ensemble.
The music, composed by Alan Menken (The Little Mermaid, Beauty and the Beast, Pocahontas, The Hunchback of Notre Dame) with lyrics by Tim Rice (Joseph and the Amazing Technicolor Dreamcoat, Evita, Aladdin, Beauty and the Beast, The Lion King), ranges in style from pop, to jazz, to choral, and draws heavily from the Psalms. 
The performance recounts the pivotal moments in David's life, beginning as a shepherd boy who slays the giant Goliath, his surge in popularity, rivalry with Saul, and friendship with Jonathan; David's marriage to Michal and rise to the throne of Israel; his affair with Bathsheba; the rebellion of David's beloved son Absalom; and finally David's succession by his son Solomon. 
Tickets at $5 each are available at Brown Paper Tickets, and at the church, 20600 John Drive, 94546; (510) 537-4690; outreach events
There are performances at 7:30 p.m. each day, plus a 2:30 p.m. performance Aug. 4.
DD