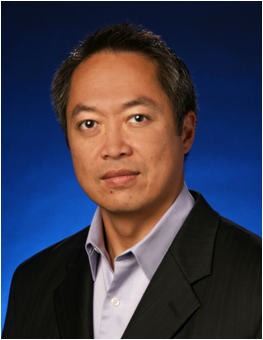 Mike Abary '88 is senior vice president of Sony Electronics (By: Mike Abary)
Mike Abary '88 earned his Business Administration degree with a concentration in marketing from Cal State East Bay and is now senior vice president of the Business Development Division at Sony Electronics. "My degree provided me with a foundation on which to rely upon," said Abary. "Skills such as critical thinking, problem solving, and understanding people - these were fundamental skills I learned from Cal State East Bay that I have carried throughout my career."
Abary wants current CSUEB students to know that pursuing their careers is a journey that should be enjoyed, and the steps taken and the skills gained are more important than the destination. He went on a journey and found his true calling in technology product marketing at Sony, a place that felt rewarding and effective in a positive way to people's lives.
"Never stop believing in yourself, and never let perceptions about attending a state school stop you from reaching for the sky," said Abary. He says he is proud to be a CSUEB grad because the school provided high quality academics, is down to earth, and diverse. "I was always ambitious, always driving for higher positions, and my next goal is becoming a CEO."
We have no doubt that we'll soon be writing a story about Mike Abary's promotion to CEO!
LA