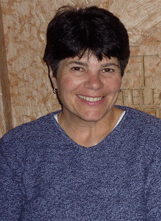 Rita Liberti
Cal State East Bay Kinesiology Professor Rita Liberti will present "The Olympic Games: Politics at Play" at the Castro Valley Library Saturday, August 4 at 2 p.m. This free event is sponsored by the Hayward Area Historical Society.
Over the course of modern Olympic history there are countless connections between the Games and social issues. Liberti will explore those intersections, looking specifically at the Civil Rights Movement during the 1960s. The fight for racial equality may be best illustrated by the actions of two local athletes, San Jose State's John Carlos and Tommie Smith. Their raised black glove salute on the medal stand, in protest of racial injustice, at the 1968 Games drew praise from some and severe condemnation from others.
The library is located at 3600 Norbridge Ave, Castro Valley. For more information call the Hayward Area Historical Society at (510) 581-0223.
KL