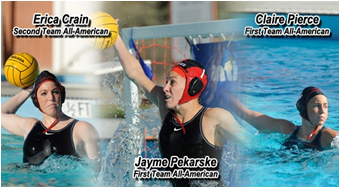 three female playing water polo players
Following a 2012 campaign that saw it record its best finish in program history at WWPA Championships, the Cal State East Bay water polo team was rewarded with Association of Collegiate Water Polo Coaches (ACWPC) Division II All-America honors for Claire Pierce, Jayme Pekarske and Erica Crain. The accolades mark the first time since 2009 that three Pioneers have earned All-America status, with Pierce and Pekarske earning a spot on the First Team and Crain collecting Second Team honors.
This season, the trio helped guide Cal State East Bay to its best-ever finish at the WWPA Championships, toppling both Santa Clara and Cal State Monterey Bay to claim third place in the tournament. The Pioneers also posted seven wins against Division I opposition and 12 victories against conference foes.
Pekarske, Pierce and Crain were joined by seven other student-athletes from WWPA schools on the Division II All-America Teams, including a pair each from UC San Diego, Cal State Monterey Bay and Sonoma State. The Pioneers had the most selections from any school among the 14 Division II All-Americans. The Otters, who finished fourth at the WWPA Tournament, were recognized with Division II Player of the Year honors for Nikki Smart and Coach of the Year accolades for Gary Figueroa.
Way to go, Pioneers!
KL