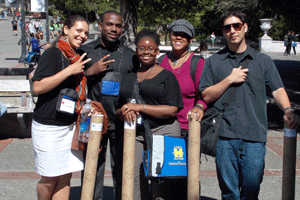 Cal State East Bay's McNair Scholars for 2012 are (l-r): Nyala Bremner-Nyah-Wright, Peter Osivwemu, Ashley Griffin, Tiffany Robinson and Matthew Fernandez.
Members of Cal State East Bay's McNair Scholars Program for 2012 have had a busy summer thus far. The program aims to prepare scholars for entrance into graduate school, with the ultimate goal being for each scholar to earn a Ph.D within 10 years of graduation from CSUEB.
The first thing the scholars did during summer was attend a graduate student boot camp sponsored by San Jose State University at the end of June. There they were provided information on how to get into graduate school, life as a graduate student, preparation for the GRE, writing a personal statement and additional relevant information.
Following their return from the San Jose Boot Camp, the scholars participated in a summer research methods class, led by Kim Geron, chair of CSUEB's Political Science Department. During this class, they were provided information on qualitative versus quantitative data, the use of human subjects in research and the Institutional Review Board, communicating research using a poster, writing a literature review, designing a research proposal and other information related to conducting research.
The summer session culminated in the scholars attending and presenting at the National McNair Research Conference held at UC Berkeley Aug. 2-5. Scholars had the opportunity to attend the research talks and view posters presented by fellow McNair Scholars from all over the country, in addition to presenting their own research proposals via a poster. In addition, there were panels on life as a gradute student and applying to graduate school.
The scholars are currently finishing up their research proposals, which they will be submititng for assessment by Geron and Erica Wildy, director of the McNair Scholars Program.  Then, at the conclusion of the summer break, scholars will begin the fall quarter, during which they will continue to be provided with information related to applying and attending graduate school while they continue to develop their research projects under the supervision of their faculty mentors.
The McNair Scholars Program is dedicated to preserving the leagacy of astronaut Ronald E. McNair, the second African American selected by NASA to go into space. He died in 1986 when the Challenger space shuttle exploded after launch.
EW/BZ