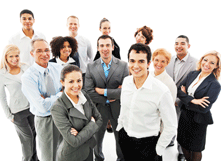 men and women in business attire
Information about more than 40 certificate and degree programs in many specialized areas offered through Cal State East Bay's Division of Continuing and International Education (DCIE) will be available when the university's downtown Oakland Center hosts an open house from 3:30 to 6:30 p.m. on Thursday, Sept. 6.
Admission is free to the event, at which faculty and other representatives of DCIE will be on hand to discuss the academic programs and answer questions. The Oakland Center is located at 1000 Broadway, Suite 109.
Background materials on programs for students at all levels of their professional and academic careers will be provided. Special presentations will be made for human resource management certificate, paralegal certificate, master of social work degree, master of science in healthcare administration, and MBA, among others.
"This year is particularly special for DCIE as we celebrate 10 years in our Oakland Center location," said Brian Cook, associate vice president of DCIE. "Cal State East Bay is proud of its nearly 55-year commitment to offering high quality professional development, degree, and certificate programs to the East Bay. We look to expand our programs meeting workforce needs for many years to come."
CSUEB's Division of Continuing and International Education is a wholly self-supporting unit that develops and markets its own programs, administers its schedules, and registers and enrolls students without general fund support. The departments and auxiliaries under the DCIE umbrella are: Continuing Education; International Education, such as the American Language Program; Center for International Education; and the Oakland Professional Development Center.
For more information and to RSVP.
LP