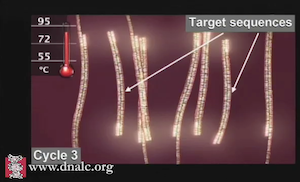 animation of strands of DNA replicating, target strands noted by arrows (dnalc.org).
Volcanoes and fluid races weren't the only experiments running at the Hayward Campus this summer. (Catch up on that story.) While the IMSS Partnership Project reaches out to middle school teachers to share ways of engaging students in STEM (science, technology, engineering, and mathematics), CSUEB also connects with high school teachers to maintain and deepen students' interest in science as they get closer to college.
In June, the University hosted 12 high school teachers for a biotech workshop through the East Bay Bioscience Educators Network (EBBENet), which covered both the practical lab science and effective teaching methods. Teachers who've been through the training can then check out classroom kits through the program during the school year, including the necessary equipment and supplies, at no cost, to share the same lessons with science students.
EBBENet grew out of programs developed under Prof. David Stronck in the College of Education and Allied Studies. The network, the professional development program, and the fully stocked lab kits are funded by grants to CSUEB's Institute for STEM Education from the Hearst Foundation and the Bayer USA Foundation. 
Shary Rosenbaum, a lecturer in the Department of Teacher Education (who also earned her master's degree from CSUEB), runs the outreach and workshops, and during the year she manages distribution and restocking for the lab kits, which rotate between participating schools in different geographic clusters. Each cluster has a teacher leader, and Rosenbaum stays in close contact with each to make sure things run smoothly.
"The basic skills these labs support are very versatile," she says. Biotech is increasingly important in subjects like medicine, agriculture and genetics — in addition to being a major industry in the Bay Area.
"Everything in biotech is either DNA or a protein," Rosenbaum explains, "it's all about what you do with it." DNA is particularly flexible and easy to work with, and of course, it's easy to obtain from a simple cheek swab.
Because hands-on learning is important for instructors as well as students, the training program included running through key biotech experiments, like polymerase chain reaction (PCR) — heating and cooling a sample and adding primer solutions to begin the replication process. The PCR technique is used frequently in biotech and often seen on TV forensic labs. Millions of copies of a single cell can be produced within a few hours, allowing extensive testing even from a very small sample.
In the PCR experiment at the training session, teachers replicated sample DNA to isolate a particular sequence, looking for what's called an Alu element. It's not genetic testing, Rosenbaum is quick to clarify; only about 10 percent of DNA is functional, she explains, and like much of the remaining 90 percent, an Alu element doesn't do anything. The experiment is a simple way to look for the presence or absence of a particular sequence of DNA that can be clearly delineated. And because each student will get a unique result, it's a great lab for groups to compare and contrast.
The training gives teachers the skills and background to run the labs successfully, and the kits provide the resources they need in the classroom — including expensive hardware and restocking supplies. But each teacher can decide where a biotech unit will fit best in the curriculum for a class.
Most will incorporate it into biology or physiology classes; one attendee from Vallejo said she'll use it to teach a course focusing on chemistry for biotech, and said the workshop "gave me confidence to teach this new subject."
Another new biology teacher added that the course "inspired me to continue on with more professional development" to someday plan a full biotech course.
SS