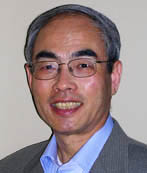 Jiansheng Guo appointed CLASS Associate Dean.
After two years as interim associate dean, Jiansheng Guo has been appointed associate dean of the College of Letters, Arts, and Social Sciences at Cal State East Bay. The selection was as a result of a campus-wide search.
Guo retains his rank and tenure as a professor in the Department of Human Development and Women's Studies. 
He earned a B.A. in English Language and Literature at Beijing Foreign Languages Institute in China in 1977, a Teaching English as a Second Language diploma from Victoria University of Wellington, New Zealand in 1978, and a Ph.D. in developmental psychology from the University of California, Berkeley in 1994. 
Guo joined CSUEB in 1999 as an assistant professor, following lecturer and senior lecturer positions at Victoria University of Wellington. His campus service includes two terms on the Committee on Academic Planning and Review, and two years on the CLASS Tenure and Promotion Committee.
As associate dean, Guo's goals will be to help with program and curriculum development, assist faculty with research and instruction, find ways to streamline administrative processes for efficient and effective operations, and improve academic programs to better meet student needs and make for effective student learning.
"Guo has demonstrated himself to be an individual focused on students and faculty, and committed to the goals of higher education and CSUEB. I am pleased to have him on board in an ongoing, rather than interim, capacity," said Kathleen Rountree, CLASS dean.
She added, "During his term as interim, he led important initiatives that resulted in substantial equipment upgrades and increased faculty involvement in assessment of student learning."
DD