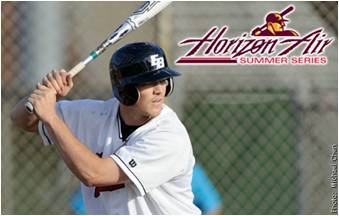 Pioneer baseball player at bat (By: Michael Chen)
Pioneer baseball players Charlie Sharrer and Nick Hudson were named to the Horizon Air Summer Series All-Series First Team on Aug. 8. The pair were the only players from Division II to earn First Team honors after playing in the Horizon Air Summer Series, a collegiate wood bat summer league.
 
The Horizon Air Summer series is a unique eleven-week long competition among elite college summer wood bat baseball clubs from the Western United States. The series teams are divided into three divisions, two 24-game divisions and one 40-game division. Now in its eighth year, the Horizon Air Summer Series boast several notable alumni including Chicago Cubs pitcher Matt Garza and Oakland A's pitcher Dallas Braden.
KL