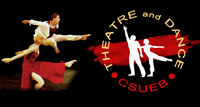 Theatre and dance logo, plus two dancers
September 13, 2012 10:00am
The University Library and Department of Theatre and Dance have collaborated on 22 tall banners tracing the campus history of the two performance disciplines over the past half century.
The pieces – on topics such as history, dance, theatre and musical theatre, technical and design work, and beyond entertainment – are on view in the library Lower Mall Lobby and Upper Mall Lobby through January 2013.
Linda Dobb, associate provost and librarian, said, "We are thrilled to be collaborating with Theater and Dance on this exciting exhibit.  April Rodriquez has done a great job of using archival materials to document some of our strongest traditions in the performing arts.  We hope the campus will come and enjoy the exhibit and be proud of what we East Bay has done over the years."
The panels were created by Richard Apple, library designer, using images April Rodriguez, theatre and dance instructional support assistant, gathered, with logistical collaboration, archival expertise, and financial assistance from Librarian Diana Wakimoto.
Rodriguez and Wakimoto's began collaborating more than two years ago on best practices and solutions to preserve, house, digitize, and organize theatre and dance archives. This year, Wakimoto joined Rodriguez in the department's golden anniversary promotion.
DD