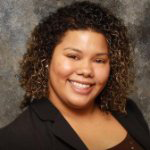 Head shot of Chantel Johnson
September 20, 2012 11:00am
Chantel Johnson, '07 sociology and social services, has a new title and honor. In her role as legislative and policy coordinator at the California Youth Connection in Sacramento, Johnson is being recognized this week as one of the Sacramento Observer Newspaper's "30 Under 30."
She is also part of the Nehemiah Emerging Leaders Program that develops leaders who will be catalysts for change in their workplace and in the Sacramento community. 
Johnson, who rose from the foster care system to become student body president in her senior year at Cal State East Bay, also holds an MPA in policy, economics and public management from the University of Southern California. 
She has been a legislative and policy coordinator at the California Youth Connection since 2008. There, she works for statewide foster care legislation and policy change through relationships with key stakeholders, legislative offices, government agencies and the community. She also serves as the spokesperson on legislative issues to the media and public, develops training materials and leadership and represents the organization on several coalitions and organizations.
Johnson was on the cover of the spring 2008 issue of Cal State East Bay Magazine. Read the full story
DD