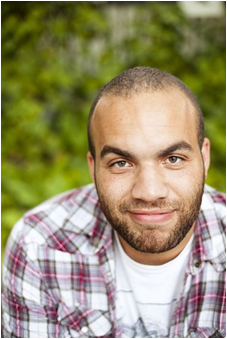 Headshot of Motivate Clothing Co. owner and CSUEB alumnus Cory Bardwell. (Courtesy of Cory Bardwell)
September 12, 2012 5:00am
Motivate Clothing Co. may have originated as a senior graphic design project at Cal State East Bay but Cory Bardwell, BA, graphic design ('12) has grown the concept into an urban, trendsetting apparel company focused on providing high quality products while partnering with charities.
In an interview with Indie Minded, Bardwell explained the motivation behind Motivate Clothing, "We are a clothing company that cares about our world, about human rights, and about you… The shirts each focus on a theme that correlates with a certain non-profit organization. My goal with these shirts is for them to be quality shirts with visually appealing designs, and also for them to inspire the buyer to think more about charitable donations and the organizations involved specifically."
While the company may be new, the concept has been rattling around in Bardwell's mind for some time. He said, "My goal since becoming interested in graphic design had always been to start a t-shirt business. I looked to the leading indie clothing brands and saw their idea of business as the best way for me to make money and have fun doing it. I knew that if I took it seriously, I would excel."
A senior project was just the motivation he needed. "I was able to use my time to put together and order my first line of 6 shirts, along with some stickers, pins, posters, and unique packaging," said Bardwell.
Bardwell keeps his creative skills sharp by working as a freelance graphic designer under the pseudonym Witty Walrus.
Want a free shirt? Bardwell is running a Twitter/Facebook giveaway until September 15! If you're not the lucky winner, he has extended a 30% discount to the CSUEB community until December 31 with coupon code CSUEB30.
KL