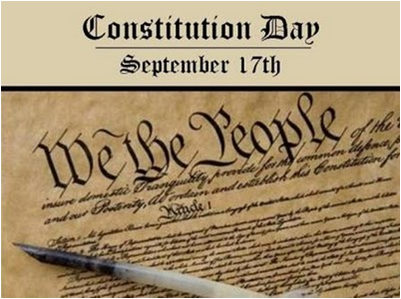 US Constitution (By: Courtesy of CSUS)
The CSUEB community is invited to test their historical knowledge with a U.S. Constitution quiz, get free copies of the U.S. Constitution and browse related items on display from the Cal State East Bay library's collections in honor of Constitution Day.
Constitution Day is an American federal observance that recognizes the adoption of the United States Constitution and those who have become U.S. citizens. Although it will be officially observed on Monday, September 17, the day the U.S. Constitutional Convention signed the Constitution in 1787, the CSUEB Library will host a special exhibit the entire month of September.
The CSUEB Constitution Day display is on the second floor of the library (Upper Mall). The special exhibit features a special edition of the Constitution from the library's Special Collections which is one of only 500 copies printed by Arion press in 1987 on the bicentenary. The book is traditionally bound in full limp vellum, printed on special handmade paper and it has hand-drawn and illuminated initials.
Jared Mariconi, library services specialist and exhibition coordinator, said, "Although it was made in 1987, the traditional handmade details reflect the dignity of the Constitution as a 225-year-old living document. It really is a cool and beautiful book and it's one of my favorite items in the library!"
For more information, please contact Jared Mariconi at 510.885.4902 or by email: jared.mariconi@csueastbay.edu.
KL