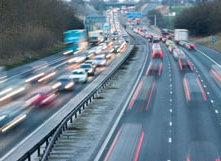 freeway
September 14, 2012 5:00am
Interested in saving on campus parking fees, gas and vehicle wear and tear? Students, staff and faculty members who live in the Tracy, Stockton, Manteca and Modesto areas will now have the benefit of participating in a new vanpool program beginning fall quarter.
"(The program) will help reduce the carbon foot print of the university," said Derrick Lobo, Cal State East Bay parking services coordinator. "We're hoping that if we can get 10 to 15 riders per shuttle, then that's at least 18 less vehicles on campus."
The first vanpool is scheduled to leave Tracy at 6 a.m. and arrive on campus by 7 a.m. For the return trip, riders on this shuttle would leave the university between 3:30 and 4 p.m. The second shuttle would depart and arrive on campus an hour later and is tentatively scheduled to make the return trip at 5 p.m.
Space is limited to 15 riders per shuttle. If interested, please contact Lobo, at derrick.lobo@csueastbay.edu. Include a name, phone number, email address, residing city and desired vanpool in the e-mail.
KL