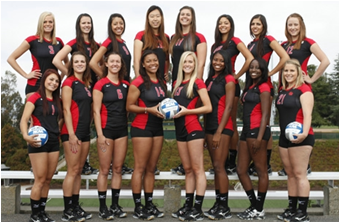 CSUEB volleyball team (By: Kelley Cox)
September 13, 2012 5:00am
After going 5-2 in non-conference play, Cal State East Bay begins its CCAA schedule with two bay area matches. The team takes on San Francisco State on Friday, September 14, before heading up to Sonoma State on Saturday, September 15.
Friday, Sept. 14
@San Francisco State
(5-2, 0-0 CCAA)
The Swamp
7 p.m.
Saturday, Sept. 15
@ Sonoma State
(6-2, 0-0 CCAA)
The Wolves' Den
7 p.m.
Read article on CSUEB Athletics Web site.
KL